On April 28, 2017, we were proud to help Buffalo-based visual artist Julia Douglas celebrate the opening of her first solo exhibition, titled "Tinted."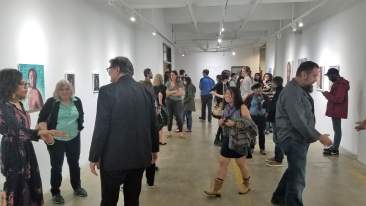 Douglas is the 2017 Open Buffalo Emerging Artist, the first in an annual series that supports and raises the profile of local artists whose work shares themes with our mission "to create systemic changes leading to an 'open' city for residents of Buffalo through the measures of equality, justice, and freedom." The series is result of a partnership between Open Buffalo and the Buffalo Arts Studio.
Her current work having developed as a response to the media's repetition of racially biased imagery in the wake of the Trayvon Martin case, Douglas rejects the hyper-sexual, violent, and sinister portrayal of men of color that saturates contemporary media. Douglas uses traditional oil paint and classical portraiture to show people of color as sensitive, honest, loving and human.
"All the portraits have sort of a quiet confidence, but also a sense of vulnerability," said Douglas.
Her subjects, mostly men, are all from Western New York and are portrayed in a realistic and recognizable way. She conveys a sense of vulnerability and innocence through implied nudity, subtle gesture and realistic body types.
"The series includes a few women of color as well, and it challenges many of those same stereotypes and expectations imposed upon men of color," said Douglas. "For example, the hypersexualization and aggression we are constantly portrayed with."
"Tinted," was on display April 28 through June 2 at the Buffalo Arts Studio (Tri-Min Building, 2495 Main Street, Suite 500 Buffalo, NY 14214).
====================
More about Julia Douglas:
To learn more about this artist, visit her Facebook page.
Coverage of "Tinted":
"On View / Portrait artist with a message" (By Bruce Adams, Buffalo Spree, 4/30/17)
"Julia Bottoms-Douglas combats stereotypes with stark portraits" (By Colin Dabkowski, Buffalo News, 5/12/17)
"Julia Bottoms-Douglas and Van Tran Nguyen at BAS" (By Jack Foran, The Public, 5/17/17)
More about the annual Open Buffalo Emerging Artist series:
Buffalo Arts Studio (BAS) and Open Buffalo began the Emerging Artist series in 2016 with the following goals:
To uplift underrepresented artists and communities in our city
To increase public access to the arts
To maximize BAS audience development and expand BAS educational outreach
To promote curatorial relevance
The series consists of an annual six-week exhibition dedicated to an emerging artist whose work relates to and reflects the mission of Open Buffalo "to create systemic changes leading to an 'open' city for residents of Buffalo through the measures of equality, justice, and freedom."
Open Buffalo's support underwrites administration, curation, and marketing of the exhibition and provides an honorarium to the artist to offset the cost of mounting the exhibition. This partnership also provides the Emerging Artist with an access point to ongoing social justice and community campaigns, as well as Open Buffalo leadership trainings and personal development workshops.