By Tanvier Peart
"The place in which I'll fit will not exist until I make it."
- James Baldwin
When a community unites, it can change a generation. One hundred individuals came together for Open Buffalo's Justice Leadership Institute (JLI), the organization's largest ever training event — and new prerequisite for the Emerging Leaders program — that equips leaders with tools to build individual and community capacity, harness the power of personal stories, and create strategies to transform purpose into action. The two-and-a-half day (free) organizing workshop, hosted by Open Buffalo in partnership with the Leading Change Network, featured 10 sessions with participants breaking into small groups with designated trainers. Small group trainers included OB Emerging Leaders alumni, board members, and other talented community allies. The curriculum not only challenged attendees, but also trainers, whose lives have been changed for the better because of JLI.
"This experience of being a trainer with Open Buffalo and the Leading Change Network has given me the opportunity to recognize that the butterflies in my stomach that I often identified as nervousness have enough strength to get me from where I am to where I want to be," said Tara Craig, one of the trainers during the inaugural JLI event. "Regardless of whether I'm an introvert or an extrovert, the privilege of being in a place with like-minded people who want to learn and want to grow has empowered me and encouraged me to continue the work in different capacities — no matter how small or how great. Each part is valuable."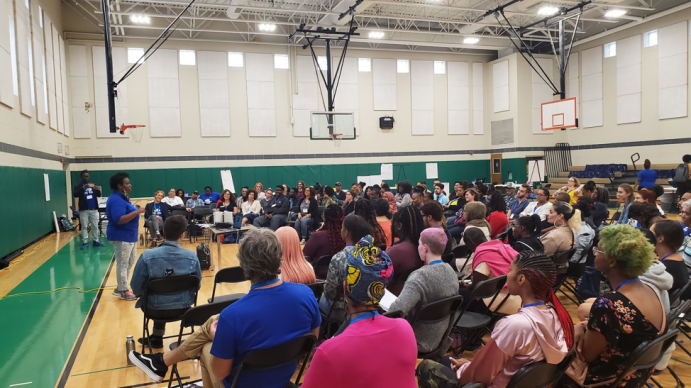 The Justice Leadership Institute challenged participants to dig into their inner selves, walking in both truth and transparency. The Introduction to Public Narrative and Story of Self was one of many sessions that inspired people to identify the experiences in their lives that not only shaped their values but explain why they're called to the work. Raziya Hill, founder of Every Bottom Covered, a local diaper bank that provides diapers to low-income families, recalled the importance of sharing the story of self and why it's so crucial. "Sharing the story of self brings us closer together. We are all so different, but when you're able to share your commonalities — or find commonalities through sharing — it's so powerful," she mentioned. "Realizing that you're connected to other people that you wouldn't normally have some type of inner connection with was amazing. I've told my story before, but I tell it on a very glossed-over level. Having to dig deep and understand my 'why,' to reposition my 'why,' was necessary."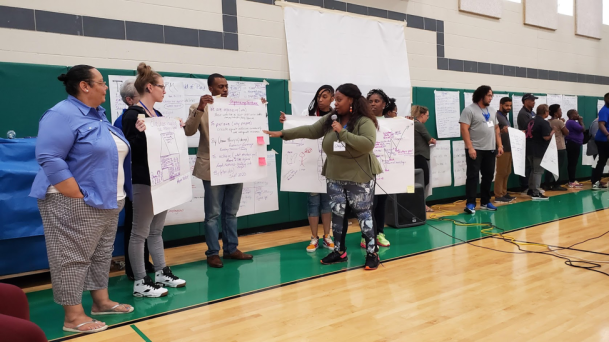 With so much to unpack during JLI, Open Buffalo thought it necessary to have a counselor present.
"I think this a very trauma-informed approach for young leaders in our community, or people in our community who are doing the work," Estella Johnson, MSW, explained. "I'm happy to be here to provide emotional and mental health support on topics that might be heavy for us. Historical trauma is real, and when you talk about certain things — like injustice — you scratch the surface and bring up things that people are going through."
In addition to the in-depth community organizing curriculum participants worked through, a major highlight of Open Buffalo's first Justice Leadership Institute was the youth who attended with a strong desire to effect change throughout the city.
"I love the team members I was with and how we worked together to accomplish what we wanted to do," 18-year-old Demetrius, known as "1cy," revealed about his JLI learning group and their envisioned community organizing project. "It seemed like a real goal that we can actually complete."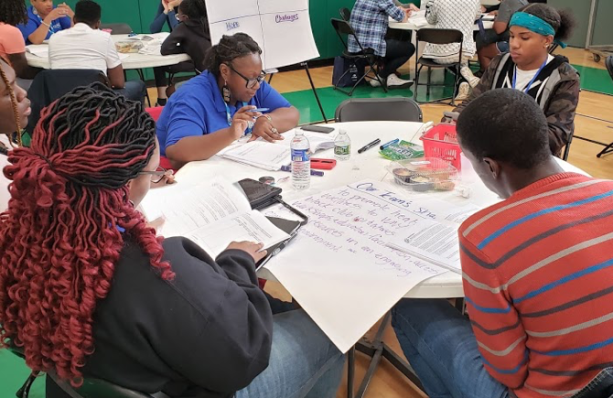 Dayatra Hassan had a special experience during the weekend event as the trainer and 2017 Emerging Leader alum's daughter, Bree, was a JLI participant. "I have a lump in my throat holding in tears because of the transformation I was able to witness," Hassan, a community educator, reminisced. "I'm especially honored and excited because my daughter came. It's not just about me telling her what's going on, she can see it for herself, and we can unpack it together."
And the feeling was definitely mutual for Bree Hassan. "This weekend was super full. I didn't expect to share so many moments in the groups," she added about her time at the Justice Leadership Institute. "I didn't expect to have such transformative moments. I came here for strategy and tools. I didn't expect to bond so much."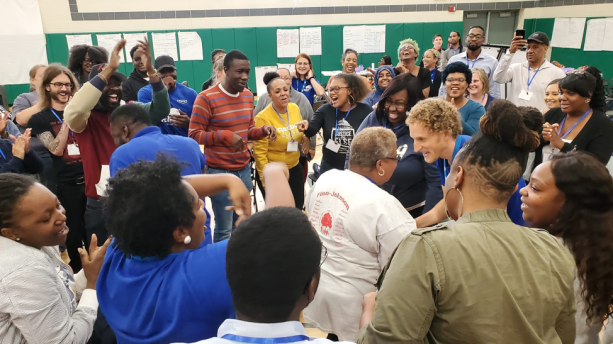 As positive as it was to see the participants holding space for each other and strengthen connections, the urgent need for change was felt during a press conference for Jeanneie Muhammad (a woman attacked by a man being charged with a hate crime) just outside JLI's gathering space. With the community, including workshop attendees, rallied around her during the September 7 news event, Jeanneie took pause to soak in the support. "To know that I have the community's support and all these people — some that I know very well, and some that I don't — just to know the love is very healing," she mentioned during the press conference.
And responding to injustice with action is what Open Buffalo Executive Director Franchelle Parker says the Justice Leadership Institute is all about.
"The time is now to take back our streets and take back our community. Unfortunately, this isn't the first time that this has happened in our community," Parker declared during the community press conference about the July incident, during which Jeffrey Calhoun allegedly attacked Muhammad, pulled a gun on her, and hurled racial slurs at her.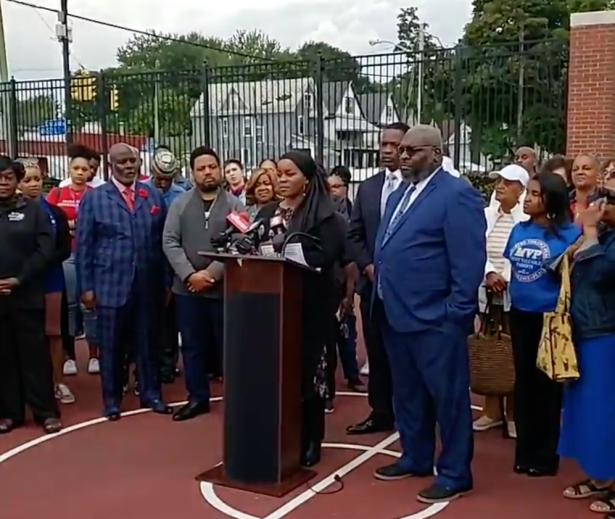 "We're exploring the stories that get buried, that never have the chance to be unearthed," Parker said. "The problem that we're facing in our community is that we don't know what to do, so we're going to really invest in the people. Right now, this is a matter of life and death. [The Justice Leadership Institute] is figuring out how to put together campaign plans and how to make sure that the movement we're building in communities and places like this is able to be sustained—to grow and manifest and combat the type of oppression we've been feeling in our community and nation."
Though Open Buffalo's first Justice Leadership Institute has officially come to an end, it has inspired both participants and trainers to leave their mark throughout Buffalo, working to dismantle systems of oppression for a more equitable and just society.