November 18, 2016
For Immediate Release
Contact: Steve Peraza, 246-1706, steve@ppgbuffalo.org
New Report Urges Buffalo Policing Reforms: Calls for Collaboration, Communication, and Community-Building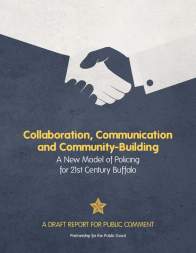 A community-based think tank issued a comprehensive report on policing in Buffalo today. According to Partnership for the Public Good policy analyst Steve Peraza, one of the report's authors, "the Buffalo Police have made some real strides in community policing. But, based on close study of best practices around the country, plus conversations with over 2,000 Buffalo residents, we've identified many ways to improve police-community relations."
The report is titled "Collaboration, Communication, and Community-Building: A New Model of Policing for 21st Century Buffalo." The report praises the City for a number of initiatives taken during the Brown administration, including its collaboration with Buffalo Peacemakers, its improved communication with foreign language speakers, and its efforts to diversify the police force. Despite these successes, however, survey data show that only 43 percent of residents believe that the police work well in their neighborhood, while 49 percent think that the police do not respect young people, and 56 percent state that the police do not respect people of color.
The Partnership and Open Buffalo will be presenting the report to the community at a forum on Monday, November 21, at Westminster Presbyterian Church, 724 Delaware Avenue, Buffalo.
"Groups all across the country are trying to improve police-community relations," said James Lopez, co-chair of Open Buffalo's Justice and Opportunity Table. "People should be able to interact with law enforcement and have the ability to leave that interaction with their dignity intact."
The report includes numerous examples of successful community policing initiatives around the country, and it offers over 30 concrete recommendations for local reforms. Some of the recommendations are as simple as the City following the requirements of its own charter. For example, the city charter requires the police department to be independently accredited, but it is not. The charter requires the Commission on Citizens Rights and Community Relations to have at least three staff people, but it has only two.
Other recommendations are designed to make community policing the core of the Police Department's policies and practices. Currently, the Police Department has eleven community police officers. Instead of leaving community policing up to those eleven officers, the report calls for all police officers to do a minimum amount of community policing each week – doing foot or bike patrols, attending community meetings, mentoring youth, and otherwise engaging with residents.
According to Danielle Johnson, co-chair of Open Buffalo's Justice and Opportunity Table, "The more opportunities people have to engage in real, authentic dialogue with police, the deeper the trust and relationships will grow."
The report asks the City to work with the police department to focus more on proactive crime prevention, recommending that the City expand the Mayor's Summer Youth Program to hire young public housing residents to work side by side with law enforcement to make physical improvements to their neighborhoods.
"This is a triple win," said Franchelle Hart, executive director of Open Buffalo. "Public housing developments get more attractive and safe; young residents get jobs; and youth and police get to know each other in a positive setting."
Another focus of the report is a greater use of restorative justice, alternatives to arrest, and diversion programs. According to Pastor James Giles, president of VOICE Buffalo, "Many times we are asking police to solve problems that are better solved with social services, mental health treatment, or restorative justice." VOICE Buffalo has been training people in restorative justice practices, in which a trained facilitator gathers the victim, perpetrator, and community members to find a just solution to the conflict. VOICE has also advocated strongly for Law Enforcement Assisted Diversion (LEAD), a program being used in Seattle and Albany, in which officers can take minor offenders directly to drug, alcohol, or other services instead of arresting them.
In addition to extensive research on current practices in Buffalo and nationwide, the report includes rich data from the Open Buffalo Community Policing Survey, which reached over 2,000 residents from over 30 zip codes in Buffalo. The survey data is presented in two forms: as raw data, and as weighted data. The weighted data adjusts the responses to match the race, age and gender demographics of the City.
"By presenting the data in both forms," according to Peraza, "we allow you to see how the city as a whole feels about the police, but also to compare how different groups feel about the issues." For example, when asked, "In general, do you think that police respect people of color," only 9 percent of black men said "yes," compared to 27 percent of white men, whereas 71 percent of black mean said "no," compared to 45 percent of white men.
"That is an important difference," said Peraza. "But it's also striking that, even among white men, the opinion was so strong that the police did not respect people of color."
Peraza emphasized that the report is not a critique of police officers or city officials; rather, it is intended as a constructive addition to the local and national conversation about ways to improve community-police relations in ways that benefit everyone concerned.
Read the full report here.
###
Partnership for the Public Good is a community-based think tank uniting over 250 organizations in Western New York. PPG is part of the Open Buffalo Innovation Lab and prepared this report for the Open Buffalo Justice and Opportunity Table.